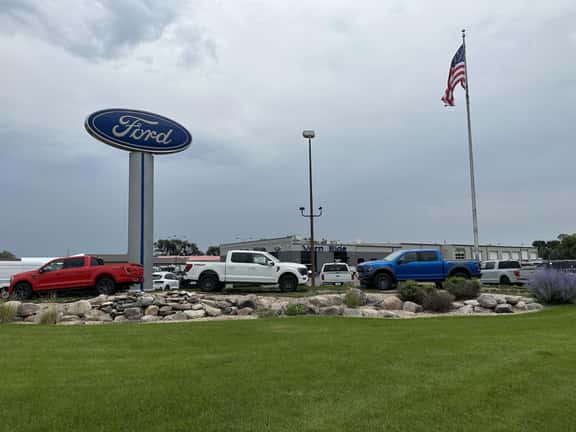 Welcome to Vern Eide Ford
Affordable New & Used Ford at Vern Eide Ford
We here at Vern Eide Ford in Mitchell have been happily serving car buyers from Mitchell SD, Huron SD, Wagner, SD and Platte, SD with the highest quality new and used vehicles for many years. We have a vast selection of Ford models that you're looking for in the style you want to match your budget. You can count on us to have the latest F-150, Escape, Explorer, Bronco Sport and Ranger available. You'll be amazed at what our Mitchell, South Dakota Ford dealership has to offer!
Our new inventory comes in a wide range of options, and our used fleet goes through an extensive quality inspection process. Vern Eide Ford in Mitchell, SD knows the importance of advanced safety features such as lane assist, rear camera monitors, and additional airbags, and that's why you will find the best options packages to meet your needs. We know having options is key to your purchasing decision, and that's why we have no appointment necessary test drives in our Mitchell, SD based dealership. Stop in today, and we will help you secure the vehicle you desire.
How to Finance Your Ford At Vern Eide Ford
At Vern Eide Ford, we believe that buying a vehicle in Mitchell should be as straight forward as possible. Vern Eide Ford knows that you have a lot of South Dakota car dealerships to choose from. That is why we know the whole experience matters. We not only make it easier for you to buy a car, but we will also help you finance it. There are several financing options available to drivers from Mitchell, Huron, Wagner and Platte. Your budget and needs are two of the main things that you will need to take into consideration. We will make sure that you find a lease or loan that will fit in with your needs and budget. All the staff at Vern Eide Ford in Mitchell, SD believes that it is important to understand all of the options that you have. We also will help you understand all of the terms and conditions of the loan or lease. This will make it easier for you to decide whether the loan or lease is right for you. We want to help you get financed as soon as possible so that you will be able to get your car.
Certified Technicians Make the Difference at Vern Eide Ford's Service Center
Servicing your vehicle is very important for the mechanical performance of your Ford. You'll need to have your Ford F-150, Escape, Explorer, Bronco Sport or Ranger serviced regularly for best performance. What sets Vern Eide Ford in Mitchell, SD's service center apart are the highly experienced technicians. They can repair and replace any part of your Ford vehicle and make the drive as good as new. They use their own Ford manufacturer's parts to service vehicles. This ensures that the workmanship will be made with the parts best suited for the repair. If you need a tire rotation or a new set of wheels, an oil change, a brake pad change, windshield wipers replaced, or to put an end to that strange sound, Vern Eide Ford's service center in Vern Eide Ford is the place to be. If you are a resident of Huron, Wagner and Platte, SD or Mitchell, SD let Vern Eide Ford's trained technicians repair your vehicle with superior technical know-how and original manufacturer parts.
Contact Us